Used in the right way, LinkedIn can be a very powerful tool for tech companies wanting to market their products and services to other businesses. At Splendid, we often include LinkedIn in our marketing plans as it's such a measurable, easy to use and popular forum – attracting around 450 million professionals from across the globe.
So how can you best use LinkedIn to your advantage? Here are our top five tips:
1.

Be present and up to date
It may sound like an obvious first step – but it's amazing how many tech firms lack a LinkedIn presence, or have one that's out of date or poorly executed.
Company pages are free to create – all you need is a personal profile page and a verified email address. Even if you already have a profile page in place, ensure you have an up to date overview which is in keeping with your branding, which makes it easy for prospective customers to see what you do at a glance.
This article from LinkedIn has some great tips on company pages.
You can use your company page to:
Spark and add to conversations on LinkedIn using your company name and logo

See what content is trending with your target audience

Monitor your activity using LinkedIn's analytical tools

Re-share links or posts that are added by your employees or clients
2. Get found
Once your company page is set up, direct people to it. Include your company's LinkedIn URL in your email footer, and request that your employees include a link on their own personal LinkedIn profile pages. Also link to it from your website and any blogs or articles you publish.
It's also important to encourage your clients and people within your network to actively follow your company page, so they will automatically see any updates you publish. Be sure to add a "follow us on LinkedIn" button on your website and in all your communications.
Also, be sure to include relevant keywords in your LinkedIn company page which relate to how people would search for your services and will help boost your organic search rating. For example, for Splendid Suggestions, it would be terms like: "B2B tech marketing" or "technology marketing" or "B2B IT communications".
3. Be active

and valuable
Perhaps one of the most important ways to successfully market your business on LinkedIn is to be active. Once your company page is established, you can publish posts and comment on other posts with your company name and logo.
When it comes to publishing content, it's vital that you're engaging and interesting. As this article from LinkedIn says, "while it can be tempting to sell your audience on the benefits of your product or service, "salesy" content doesn't generally perform well on LinkedIn."
It's also important to use images – as analytics suggests that posts with images get six times more engagement than those with text only.
Also, be sure to publish valuable content. Post – or re-post articles, blogs or links which help people perform their jobs better, get answers to questions or solve pain points. You should try to share content which demonstrates:
Industry thought leadership.

 Your perspective on news and trends.
Organi

s

ational

thought leadership.

 Embodied in the vision and ethos of your company.
Product thought leadership.

 Centered on being the best solution for your customers.
4. Advertise
Advertising on LinkedIn can be another great way to get traction and grow your brand. There are three types of ads you can run on LinkedIn:
Sponsored content

InMail ads

Text ads
Sponsored content
Sponsored content essentially means you create native ads in the news feed – so they appear as if they are just posts.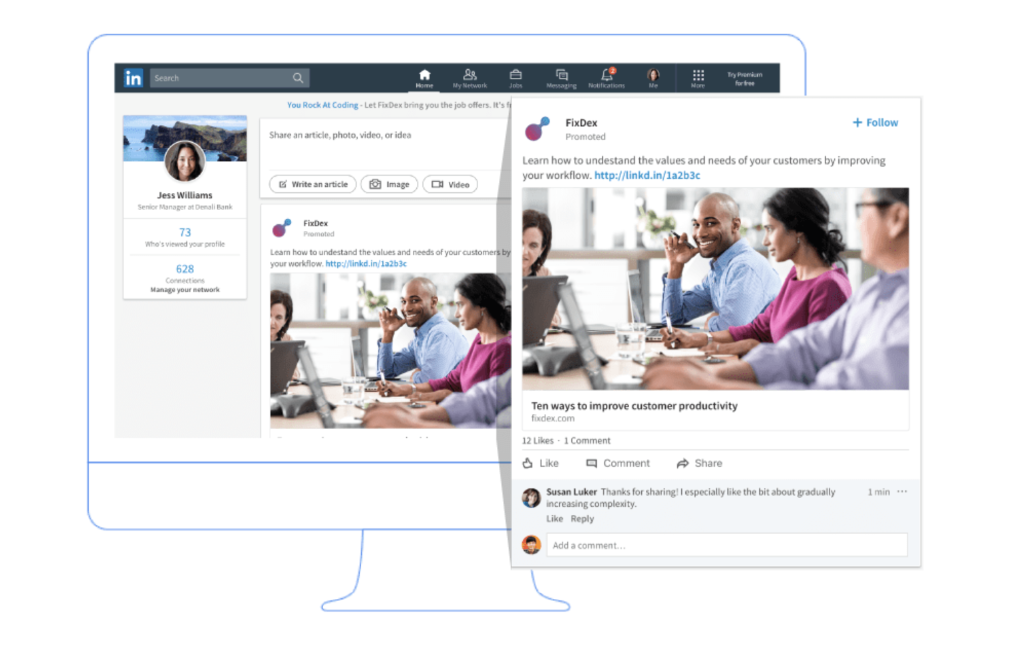 Image: LinkedIn
You can link your sponsored content back to your company blog or website.
Based on our experience creating sponsored content for a range of clients, the most effective posts are those which:
Are short and punchy

Show thought-leadership

and teach the audience something

Use statistics or interesting facts to create

tension

and spark interest

Express a specific opinion or have an interesting, personal touch
Take a look at these great tips for writing effective sponsored content here.
InMail ads
With Sponsored InMail, you can target audiences with relevant content which is delivered through LinkedIn messenger. It can be helpful if you want to boost registrations for events, drive conversations with specific promotions for your products and services, or drive downloads for content such as infographics, whitepapers, eBooks and more.
You can learn more about sponsored InMail advertising here.
Text ads
Lastly, text ads give you a simple but potentially effective way to advertise using pay-per-click or cost-per-impression models. You only pay for the ads that work, which means it's a low risk way to advertise.
You can learn more about Text ads here.
5. Measure
As with any marketing initiative, measurement is vital. LinkedIn offers a range of sophisticated and easy to use analytics tools to help you understand the effectiveness of any activity you're doing, and track how your audience is responding. You can then use this data to edit your ads, refine your targeting, adjust your budget and toggle ad variations based on how they are performing.
Splendid can also perform this analysis on your behalf, and we already do so for many clients.
Learn more about measuring and optimising your LinkedIn campaigns here.
Want to find out more?
If you're interested in learning more about how you can use LinkedIn as a powerful marketing channel for your B2B tech marketing, get in touch.