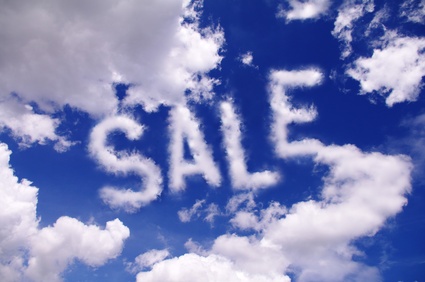 You may have heard that as many as 86% of Australian businesses have been using cloud for a year or more. The ABS puts the figure much lower – as low as just 37% for businesses larger than 200 people. Just when we thought we had done our job and sold as much cloud as we could in a highly sophisticated market like Australia, it turns out there are more cloud sales to be had.
So do you want to buy some cloud?
Does anyone ever just want to buy some cloud? Sure, maybe there are organisations that feel pressured to jump on the cloud bandwagon because that's what every IT company and publication has been talking about for the last seven, eight, or more years.
Yet, as indicated by search trends, interest actually peaked in Australia some time in 2011. Did people just decide that they couldn't bother with cloud? Well, according to the ABS research, "no factors" was preventing 59% of orgnanisations of all sizes from adopting paid cloud computing. And between 22 and 24% cited insufficient knowledge as a barrier. Perhaps ignorance is bliss and many are happy to continue on as they have before.
Or have organisations just become more interested in what cloud can do for their business rather than cloud as a buzzword? Here are just a few of the ways businesses are getting value from cloud solutions.
Ability to scale quickly Access to enterprise level infrastructure and software levels the playing field. It gives small companies the same resources as their largest competitors. Smaller companies who have embraced cloud since the early days have an even greater advantage in that they are not weighed down by burdensome licenses or infrastructure, which prevents many large enterprises from getting the most out of cloud.
Creating a collaborative working environment Gone are the days of version control issues. Now cross-discipline teams can collaborate together on their work, leveraging all of the benefits of cloud collaboration solutions. From collaborative documents to cloud-based communications applications like Skype, working together has never been easier or as effective.
Disaster recovery While the cloud is not immune to natural disasters (as AWS recently experienced during some heavy Sydney storms), cloud back up and recovery solutions offer a relatively cost effective solution for organisations of all sizes.
Supporting a mobile workforce As workplace trends shift towards more employee flexibility (and more demands during what was once time off!), cloud is enabling a mobile workforce to add equivalent value to an organisation to those occupying desks. Cloud solutions allow access to data and applications across devices and locations and facilitate effective communications (again through apps like Skype), increasing employee productivity no matter their location.
From reducing capex for expensive licenses or infrastructure to lowering the time and resource spent on maintenance, cloud solutions let organisations invest efforts elsewhere – like strategy, sales, or improving their offering to the market. The benefits of cloud to organisations are massive. We need to stop selling the technology and start selling the benefits of the business transformation that cloud enables.