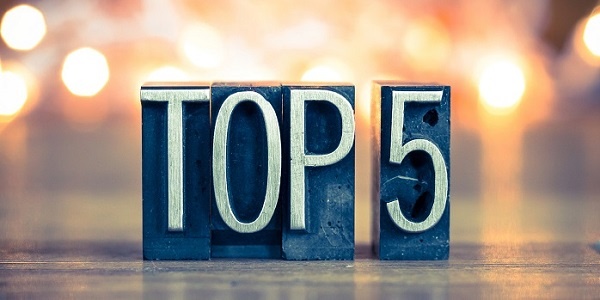 As I'm constantly trying to explain to my wife in Australia, Microsoft Inspire is no mere junket. Sure, there may some "networking" involved, but it's too far to go and there's too much to learn to not dive into the world-class sessions on offer.
However as a first-time attendee it can all be very daunting. So many sessions, so much expertise on offer, and as always so little time. To help narrow things down, I asked myself a simple question. Why is Splendid Suggestions going to Microsoft Inspire in 2017..?
As a company we have a single-minded focus - helping Microsoft channel partners drive their business growth by engaging with new and existing customers. So keeping that reason firmly in mind, the MyInspire Session Scheduler uncovered a few gems. Here are my top five:

1. Accelerating cloud customer acquisition: Adjusting to buyer 2.0
Behavioural economics has been a buzzword in advertising for some time now, as behavioural science paired with "design led" problem-solving sounds like an alluring mix when attempting to nudge someone along the buying cycle. In reality though, it rarely gets beyond the theory, with academics and creative teams struggling to get aligned enough for a campaign to get out the door. However the speaker of this session, Mark Stuyt, is a genuine heavyweight and by combining the latest in neuroscience research with next generation devices, and sharing real life B2B IT implementation stories, well… shut up and take my money..!
Day/Time: Wednesday, 12-July 3:40 PM-4:00 PM
Room/Location: 150B / Level 100
Speaker: Mark Stuyt, Neural Impact Inc.

2. 50 tips in 50 minutes - smart partner marketing
Good ideas can come from anywhere… they're just more likely to come from a panel loaded with industry experts, who are tasked with throwing rapid fire tips at you. In an industry where it's easy to drown in creative, content and channel options, figuring out what to do can involve troubled waters. Proven tactics that are quick to implement and will provide immediate results are little lifebuoys of marketing gold. The promise of walking away with four or five ideas and a solid list of 'to dos' that might just shift the marketing needle will be an hour well spent.
Day/Time: Wednesday, 12-July 2:30 PM-3:30 PM
Room/Location: 207A / Level 200
Speakers: Chris Dunning, TechQuarters; Eric Rabinowitz, Nurture Marketing, LLC; Jeff Hilton, Alliance For Channel Success; Jennifer Tomlinson, Microsoft Corporation

3. The role of marketing in a transforming company
There are Big Picture Players and then there is Chris Capossela, Chief Marketing Officer of Microsoft. It's no secret that Microsoft has kicked some serious goals in recent years, with brand perception, product innovation and share price all soaring upwards. While his title is enough to get me along to this session, his first-hand account of the role played by marketing in Microsoft's stunning "post-Ballmer" transformation should be fascinating.
Day/Time: Tuesday, 11-July 2:30 PM-3:30 PM
Room/Location: 201 / Level 200
Speakers: Chris Capossela, Microsoft

4. Creating stories that bring home the bacon
There is nothing more powerful than having your customers talk to their peers about how awesome you are. All too often amazing customer stories can be told poorly, or not leveraged as well as they could be. We all work hard to first understand, and then deliver great results against our customers objectives… however creating raving fans out of your customer base is also one of the best things you can do as a marketer. And the reality is that all of us can get better at this. This session was a sell out in Toronto in 2016. I'll be there this year with bells on.
Day/Time: Monday, 10-July 2:30 PM-3:30 PM
Room/Location: 204BC / Level 200
Speaker: Julie Simpson, ResourceiT Consulting Ltd

5. Marketing in a SaaS based world: The end of the EA
We've been hearing about SaaS and marketing working together like ebony and ivory for what seems like forever. It's not a new conversation. However for our agency, and for many of our peers, B2B campaigns with a significant 'as a service' component have jumped from 50% to more than 80% in the space of 12 months. Subscription modelling isn't the future, it's now. This session promises to help us understand the complexities, potential pitfalls and the pros and cons of incorporating SaaS subscriptions into campaigns. It's a prerequisite for any marketer in the IT B2B landscape.
Day/Time: Tuesday, 11-July 4:00 PM-4:30 PM
Room/Location: Community Hub Theater / The Commons
Speaker: Chris Wright, FiftyFiveandFive; Kevin Conroy
About Tim Sands
Tim Sands is Managing Director of Splendid Suggestions, an ad agency that specialises purely in B2B IT communications. With over a decade of B2B IT experience, Tim has a proven track record of developing communications programs that change the way people think about and purchase technology solutions. An ADMA and Echo award winner, he offers a strong mix of strategy development, creative excellence, and digital project delivery with core specialities of customer acquisition and relationship management.