The shift to digital events in the last two years has been very rapid, and for many organisations, the learning curve has been steep. The accessibility and relative ease of producing digital events also means they're appearing in abundance – and many B2B tech customers are inundated with invitations. So how do you make your digital events stand out in an increasingly saturated market? And once you've attracted an attendee, how do you then capitalise on their interest in your brand?
Here are five things B2B technology brands should be doing in 2022 to engage customers: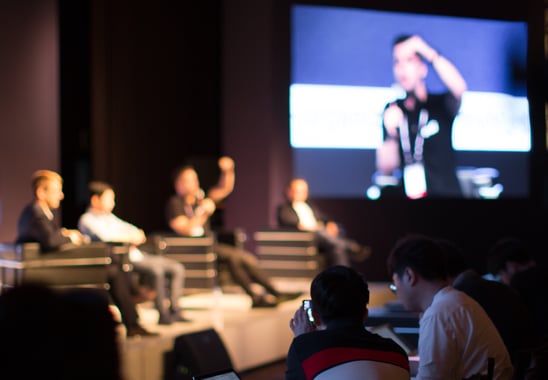 #1 –

Use niche targeting to get cut-through
In a market that's saturated with content, and with many potential attendees being time-poor, there's a need for events that are hyper-relevant, and which really hone-in on a particular topic or audience.
For instance, rather than running an event around supply chain management technology, it could be more effective to focus on supply chain management technology for the retail sector. Or even more niche – for clothing retailers.
Similarly, a provider that wants to market their new, high-speed processing technology could target the power users in universities who conduct essential research. Or even on those in advertising or movie production studios, where they render huge volumes of content on a daily basis.
Niche targeting involves thinking very strategically and creatively about potential gaps in customers' knowledge or capabilities, and finding ways to address those in way that is very fluid and timely.
#2 -

Leverage

account based

marketing

(ABM)
As we discuss in this blog, account based marketing strategy is about putting highly personalised customer needs at the centre of sales and marketing activities – creating more immersive experiences where buyers are accompanied by a seller, rather than simply funnelled to one once they have already made key purchase decisions. It's about getting to know who a customer is at an individual level, understanding their pain points, and creating tailored content around them.
With digital events, an account based marketing approach can help you use the data you have about your customers to deliver exactly what they want – at the right time. It's not about making a blank assumption about their needs, but delivering experiences that are specifically relevant to your customers at a specific point in time.
#

3

-

Incentivise people to join live
While the upside of virtual events is their flexibility and accessibility, this can also be a downside. Many people are so used to watching events on-demand – at a time that suits them - that they're less likely to tune in for a live event.
However, live events can generate considerable engagement, and there are a number of ways you can encourage people to join live:
Provide exclusive content that is only available during the live event. It could be videos, interviews or demonstrations, but whatever it is, make sure it is only available during the live event. For example, at the end of a live event, you could host a Q&A session that is only for attendees who watched the event live.

Give away prizes during the live event, which adds excitement and motivation to sign up and watch.

Include lots of teachable moments during the digital event, so if attendees are watching after the live stream they feel like they're missing out on opportunities to learn something new. For example, you could include links and resources in the video.

Giveaways, special offers and exclusives are all good ways to incentivise people to join a live event. This could include a prize draw for all attendees, or a special offer only available to those who join the event live.

Consider live polling during your sessions and offering prizes for the most active participants. While this won't necessarily incentivise people to join an event live as opposed to watching it on-demand after the fact, it will still help build engagement and interactivity during your event.

#4 - Consider making your event 'hybrid'
Your event doesn't have to be entirely digital or entirely face-to-face. It can also be hybrid, involving both physical and digital elements. In-person attendees can make your digital event more engaging, even if only a few of them are involved. And involving some people who are physically present doesn't mean that you have to exclude the rest of your audience.
Here are things to think about when you're producing a hybrid event:
Do you need to change your format? If you had initially planned a talk or seminar, you may want to consider moving it to a roundtable discussion, where attendees get the chance to engage with each other as well as your live participants. This is an excellent opportunity for networking and learning from each other.

Will you provide breakout rooms? Many video conferencing platforms allow participants to join breakout rooms for discussions or small group activities. This is an excellent way for people at home to meet and interact with others in person during online events, especially if your live participants get to choose which breakout session they would like to join.

What technology do you need? How will you actually connect your face-to-face audience with your virtual one? Do you need a film crew? How will you display content in the room, versus over the internet?

#5 - Doing more with your event content
Just as nose-to-tail eating has pioneered more sustainable consumption, it's worth thinking about how you can leverage and creatively re-package the full suite of content you create for your digital event.
For instance, you could leverage event content to:
Produce a highlights reel
Create a short, punchy video of clips from across the event. You could use these videos as social media teasers leading up to an event, or as part of a follow-up email afterwards.
Share interesting stats and facts
Capture and share any pertinent insights that you think will be useful for your audience and drive value. This might be something to do with what was discussed during the event, results from audience voting polls, or something else entirely.
Turn poll results into an infographic
If you used interactive polls as part of your event, why not turn the results into an infographic? This could either be sent out after the event or even used as part of some post-event promotions.
Provide access to speaker presentations
You may want to make all speaker presentations available after the event - whether that's available in full, on demand, or snippets to encourage people to get in touch.
Repurpose content into educational blog posts or articles
Ask speakers to send the materials they used during their session to be included in an online event portal, which you can provide access to.


How can Splendid help?
If you are interested in finding out more about how you can maximise the success of your digital events in 2022, talk to the experienced event team at Splendid Group.