All in a year, a pandemic hit, Chiara completed her final university semester virtually and stepped out of virtual learning into a virtual agency.
Chiara shares her experiences in this Q & A on how she landed on her feet amongst so much change and uncertainty.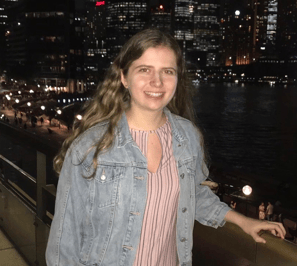 This is your first job out of university. Why Splendid?
Three months ago I completed a degree in a Bachelor of Business at UTS with no prior job experience, while also completing two internships part-time. These internships were orientated towards marketing and lasted 210 hours each. Nevertheless, I still struggled enormously to find an entry level job, especially since everything was so competitive with COVID-19. Fortunately, I connected with one of my university professors on LinkedIn and he forwarded my CV to Splendid Suggestions. Having just started full-time, I am really pleased that I get to continue to expand my skills and knowledge with such a well-known agency.
And then the pandemic hit. What happened next?
When the pandemic hit, I had to resume my final university semester online via Zoom and Google meetings. At first, I wasn't really familiar with how to use these tools but eventually I got the hang of it. While this experience was foreign to start with, it has prepared me for my full-time role at Splendid as their business operations have always been remote.
Was it strange starting a job in such a remote way?
Considering I completed 12 weeks of university online, starting a job remotely wasn't that strange for me. Businesses have rapidly switched their operations to virtual in response to COVID-19 and for greater work flexibility. I participate in virtual meetings daily where I get to see my team and clients face-to-face, alongside monthly team meetings.
What's a typical day like at Splendid?
My typical day at Splendid varies as there is always new projects coming in and new clients that we work with. But mainly, I communicate directly with clients to try to understand their needs and then work towards fulfilling them. This involves conducting research, writing briefs and project management. I really appreciate the amount of support I receive daily from my team, as they are always re-assuring me that I know what I am doing and checking in on me.
Why did you choose tech B2B marketing?
When I initially finished my degree, I
wasn't
really sure
what I wanted to do after. I
wasn't
certain whether I should keep studying and complete a postgraduate degree or if I should try and find an entry level job. I chose to work in tech B2B Marketing as
it's
not only a booming industry, but it is also an area that is
both
challenging and creative. I also wanted to work in B2B marketing as not only do you build closer long-term relationships with clients, but it allows you to become a more empathetic marketer.
So

you're enjoying your time at Splendid?
I have enjoyed every single day at Splendid so far. I am really happy that I found my first job at an agency where I can continue to grow and learn new things every day, while working alongside such a fun and caring team.
If you want to say hello to Chiara, you can reach out at chiara@splendidsuggestions.com