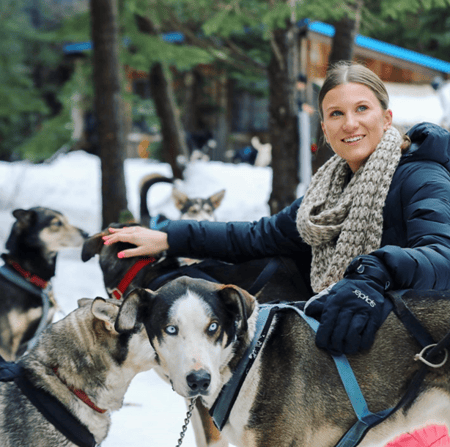 Around a month ago, Tayla Agostinis started at Splendid in a project operations role. Everything about Tayla's joining and 'on-boarding' process was fairly standard, with one exception… her direct boss lives in Tokyo, and they've never actually met face-to-face! Here, Tayla shares her thoughts about this process, what it's been like, and why she's so excited to be part of the Splendid team.
How did you come to be part of the Splendid team?
Before working at Splendid I was working at Qantas, in an operations role. Covid-19 obviously hit the airline industry very hard, and unfortunately meant I was out of a job. Initially, I spent some time focusing on my studies hoping that international travel would resume and I would have a job again. However, earlier this year, and with no real clear indication of the Covid-19 situation, I began thinking about my next career move. As much as I loved working in operations for the airline sector, I realised that I now wanted a more secure and future-proof industry – and this brought me to Splendid.
What was it like to be 'onboarded' remotely?
Julia Rush, my incredible manager has made the transition extremely smooth – despite the fact that the lives in an entirely different country! I have to say that having a manager based in Tokyo is something I never expected, but Splendid has really proven that in this day and age, it is 100% possible. It actually feels like she is in the next suburb.
And you're still studying?
Yes, I currently have a full-time study load as well as work full-time with Splendid, so it's safe to say my plate is quite full right now! I am completing my last few subjects in my final year of a Bachelor of Business with majors in Logistics and Supply Chain Management at RMIT. I can see the finish line now and cannot wait to throw my grad cap in the air and finally complete my degree!
Where did your interest in operations start?
Operations is an intriguing and dynamic part of business that has always interested me. This started while working in the airline industry. I began working for Tiger Air in a customer service role and was thrown in the deep end with all things 'operations' as well as with managing passenger and aircraft movement. After about 18 months with Tiger, I moved across to Qantas Airways and had a massive amount of operational responsibility - I went from turning around 737s with 180 passengers, to A380s with close to 480 passengers – this was a big step up.
How are you finding Splendid so far?
All in all, my first few weeks have been really enjoyable. There's lots of work to be done and I am looking forward to working through it! I was so warmly welcomed into the team and am beyond grateful to have such a fantastic opportunity at Splendid. Last week we all met for lunch and drinks in our city office and it was great to finally meet people face-to-face. Even though we've all met on Teams calls, it's nice to be able to connect in person.
I feel supported and valued every day, and am so grateful that Splendid has enabled me to start my career off in such a positive and dynamic role. I can't wait to see where Splendid can take me in the future!