A lot can change in just 12 months. Remote working is now a norm for most Australian workplaces, as are video calls. During the pandemic, Microsoft Teams grew by 894% and it now has over 115 million users.
Here at Splendid, we've always operated virtually. Online meetings have been a core part of our business from the outset. While we're always happy to meet our clients face-to-face, we do the vast majority of our communication and collaboration remotely. As such, over the years, we've learnt a lot about how to get the most from virtual sessions.
Recently, Tim decided to share his top tips and insights with the rest of us in a virtual session with the oh-so-enticing title: 'The great big meeting about meetings'. Ironically, not every aspect of the meeting went to plan! Here's a quick re-cap of some of Tim's key points (and some unanticipated hilarity):
Master your

set-up
Tim kicks off our meeting with a quick overview of how to master our call set-up. Even though it seems a fairly obvious thing to do, chances are we've all been on calls where we've been forced to look up someone's nostrils, or only seen the top half of a college's head. Hugh definitely has.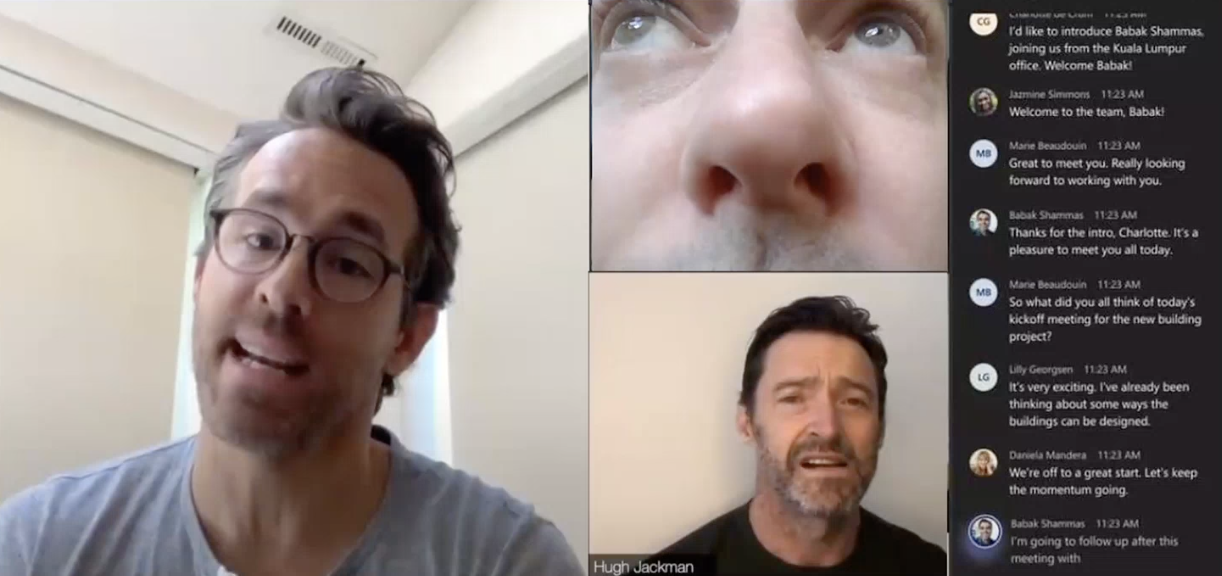 To avoid this all-too-easy faux pas, simply set up your camera so your face is framed like a passport photo. David Attenborough, at the ripe old age of 94, shows us how it's done.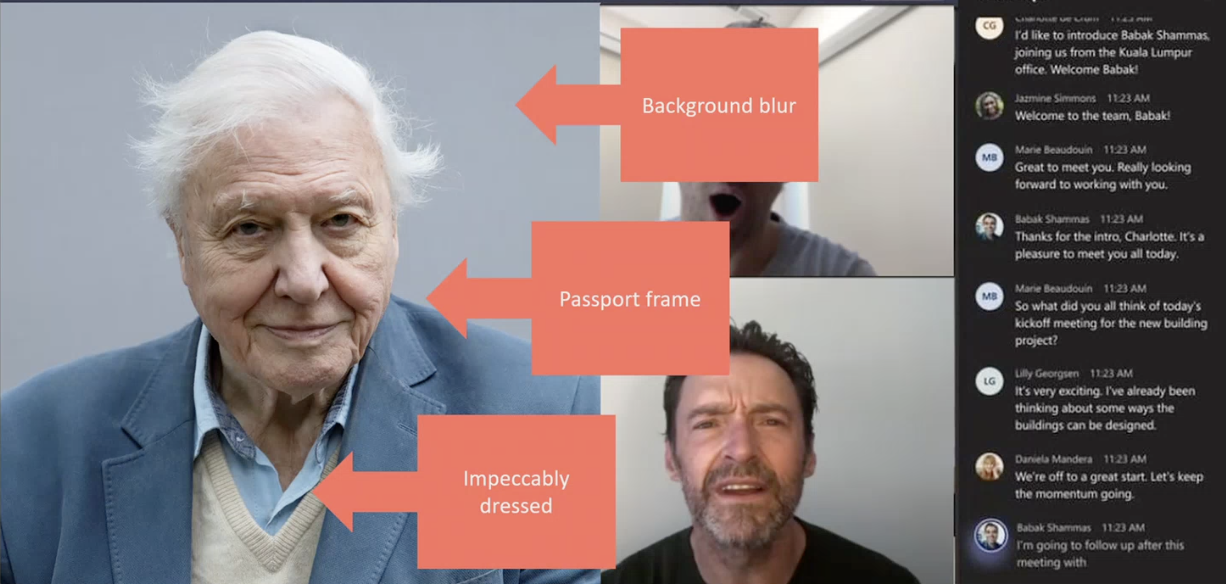 The background blur feature adds a sense of professionalism, as does dressing as if you are meeting in person (even if it's just from the waist up!). While active wear (and even a post-workout glow) is fine for an internal meeting (at least, here at Splendid!), it's doesn't convey the professionalism and attention-to-detail that's needed in external meetings.
A background also doesn't have to be boring. In fact, it's a chance to show a little of you/your business' personality.
Have an

agenda
Just as with a face-to-face meeting, it's important to have an agenda in order to keep meetings on track. No doubt we've all been in Teams meetings that have veered dangerously off course. While it's fine for a conversation about network infrastructure to detour into one about baking or rock-climbing, an agenda can help bring everyone back and create a sense of focus.
As Tim says – it's important to be on time, and have all documents that you need to discuss or share, already open. If there's reference material to discuss, send it to the other meeting participants beforehand so everyone can get the most from the allocated time. Also, discuss who will be leading the meeting from within your team – and don't forget to start with introductions. A good rule of thumb: if you aren't going to contribute to a meeting and are nothing more than a profile picture at the bottom of the screen, you shouldn't be there in the first place.
Be

present
Unlike face-to-face meetings, virtual meetings make it relatively easy to disengage and to quietly get on with other work. Tim emphasised Splendid's policy of always keeping our cameras on during client meetings, but keeping our microphone on 'mute' when not speaking to avoid background noise.
That said, if your internet connection is poor, it can sometimes be necessary to turn your camera off. Tim, who lives in remote Tasmania right now – but (pre-Covid) would flit between Australia and New Zealand on a regular basis, is no stranger to poor internet. The great irony is that his internet actually cut out a few times while making this essential point.
So, always have a back-up. If your internet isn't working, try tethering your laptop or other device to your phone, or dial in directly from your phone. At Splendid we also like to record the vast majority of our client calls so that we have a useful reference point afterwards – especially when it's a creative or strategic briefing session.
(Try to) eliminate

distractions
We've all seen the footage of the poor BBC presenter whose kids appeared in the background of his live broadcast. No doubt many of us can relate. Working from home certainly has its challenges in this regard.
Here at Splendid, our internal meetings are frequented by visitors of all kinds – dogs, cats, babies, birds (sometimes on shoulders!), small children, spouses, or flat-mates. One time, a pet snake even popped in to say hello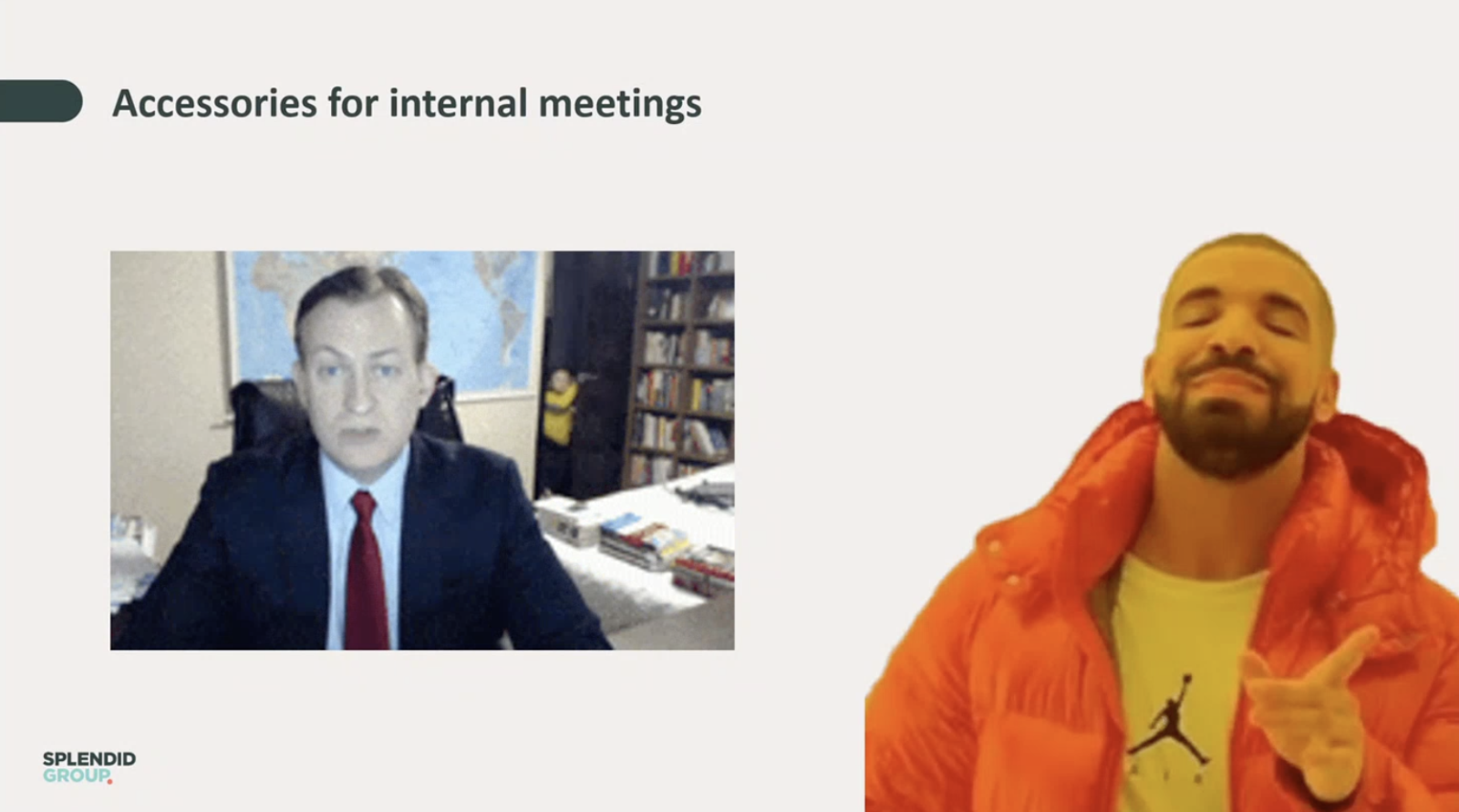 While anything goes (to an extent) for internal meetings, it's obviously better if pets and small children (or fully grown adults) don't hover in the background of your client calls. Though, somewhat ironically, just as Tim was making this point, his young daughter appeared on-screen, wanting to chat with 'Daddy's friends'.
Follow

up
We also like to follow up all our client sessions with either an email summarising the outcomes or a contact report.
Summary of our top tips
Have a professional set-up

Get some personality /branding into your background

Have a clear agenda

Know who is leading the meeting and sharing the screen

Have video on, but stay on mute

Tether to your phone or dial in if you're having connection issues

Try to

d

e-accessorise for external meetings

Send a follow-up note or contact report
Want to know more about

virtual meetings?
To learn more about how you can run successful virtual meetings, get in touch.