Recently, when working on a client's B2B marketing campaign, we uncovered this mind-blowing stat from Microsoft: the modern worker now spends 80% of his/her day collaborating at work1. 80%!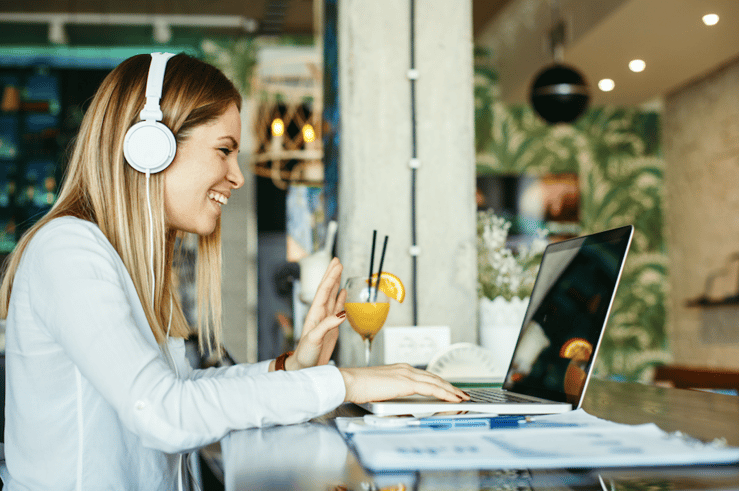 Also, people are now on twice as many teams as they were even just five years ago, and companies which invest in collaboration and teamwork are five times more likely to be high performing1.
Yet in modern businesses, where an increasing number of people are working remotely or making their own hours, how do businesses support this level of collaboration and co-working? How do we stop it from becoming overwhelming? And how can everyone communicate as effectively as they would if they were working alongside in the same office?
As a virtual agency, effective collaboration underpins everything we do at Splendid. So here, we thought we'd share a few of our tips for making it work:
1.

Invest in quality collaboration software
It may sound like an obvious place to start – but in our experience, countless businesses don't put enough thought into the software that they're going to use for their collaboration. There are all kinds of options available, and it's essential you choose the one that's right for your business, and most importantly, which your people will actually use on a daily basis.
Here at Splendid, we like to use Microsoft Teams – as it's part of the Office 365 suite that we already use, and we find it to be a great way of connecting our virtual workforce. We use Teams for client meetings, internal meetings, WIP meetings and even just one-on-one chats. The screen-sharing function is particularly handy, especially when it comes to reviewing strategy documents, copy or design.
The video call function is also a great way of enjoying face-to-face contact – despite the fact that we're sometimes continents apart. Right now, for instance, our Operations Manager, Julia Rush, is living in Japan, and we love our video calls, which give us a daily peek into quirky Tokyo life.
2.

Keep it

natural
One of the most important things a business can do, when it comes to virtual collaboration, is make it as natural and easy as possible for people to connect. This is just as much about providing the right collaboration solution, as it is about instilling an agile culture, where fluid and organic communication is encouraged.
The days where we'd save up our questions for a weekly WIP, or email a colleague with a question (and wait however long it took for a response) are long-gone. In the modern workplace, it's about getting rapid access to the information you need, when you need it – and when everyone works in this way, things can get done much faster and more effectively.
For us, it's all about taking a more relaxed and human approach. Who really cares if someone is watching their kids play soccer while they field a few quick questions about an upcoming campaign, or if a colleague is out grabbing a coffee while reviewing a document on SharePoint?
3.

…but still have structure in place
While the team here at Splendid does rely a great deal on ad-hoc communication - it's also important that we have regular, fixed meetings in place – where we can all connect in a more formal way. We have ongoing WIP meetings, and a regular monthly team meeting, which keeps us abreast of what's happening with the business overall.
These fixed meetings are a great opportunity for everyone to connect in a more structured manner – and we'll often have an agenda for these, to ensure they progress in the most efficient way possible.
4. Automate and streamline much as possible
Another key thing that we do at Splendid is automate and streamline the way we work, so that our collaboration is efficient and productive. This means using up-to-date software, working on cloud-based documents and spreadsheets, and using devices with in-built, automated security protection - so we have the peace of mind of knowing our company information is protected wherever and whenever we're connecting.
Want to find out more?
If you want to learn more about what makes a successful virtual B2B IT marketing agency, get in touch.
1. Microsoft, using Teamwork to Innovate and Grow - a presentation from the Microsoft Business Summit